Welcome to the "new" Menuel Galopin Planet ...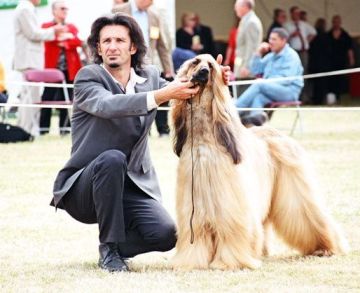 My kennel is situated in France, 3 hours west from Paris. I got my first afghan in 1985 and bred my first litter in 1991. Le Menuel Galopin is number one afghan breeder in France for the last 12 years in a row. Some of my afghans have won the highest awards, such as world and european championships. In the last 10 years, 8 Menuel Galopin afghans became european champions at the FCI european championship shows.
We won the breed at the biggest world show of the decade (reg. the entry number). We won the breeds at the 5 biggest european championships of the decade (reg. the entry numbers)...
The kennel is represented in 20 different countries and 20 of our afghan have been number one in their own country.
To date, more than 50 Menuel Galopin afghans are champions, accumulating an incredible amount of 210 championship titles and more than 500 CACIB wins.
18 of our afghans are all breed BIS winners.
You will meet these champions, and some non-champion among that website. You will find lots of factual informations about my dogs (pictures, pedigree, show records, etc...) but you will never read my personnal comments about these dogs. Making your own opinion is something you will have to do by yourself. I hope you will enjoy your trip and understand the "family" aspect of my kennel, that gives my dogs a special type.
Martial Robin